Did you ever get bit by a dead bee?
Walter Brennan
Quickie Film Festival

1) Come and Get It
2) To Have and Have Not
3) Rio Bravo
To me, no one else can be the inaugural subject for a website devoted to the character actor.
Walter Brennan
is character acting in my mind, the kind of onscreen presence we are always gratified to encounter. A man whose own character can never be subsumed into whatever role he plays, and yet his versatility and commitment to craft never allow his own personal peccadilloes to interfere with story or tone.
Brennan was born in 1894 in
Swampscott, Massachusetts
. He attended college in Cambridge, studied engineering and appeared in school plays while there. He worked as a bank clerk and a lumberjack, and then toured in regional theatre and vaudeville.
He joined the fight against the Hun in 1917. During his tour he was subjected to gas attacks which caused most of his front teeth to fall out. After World War I, he went to Guatemala to raise pineapples in a money making scheme and when that failed to bear fruit, so to speak, he moved to Los Angeles.
Starting as an extra in 1923, Brennan gradually began getting stunt work, and then bit parts in many silent and early sound films. Of the over 200 films he worked on up until 1933, more than 95% were uncredited.
By 1935 he had begun to graduate to supporting roles, where he was to stay for the rest of his life. One thing that worked for him, his lack of front teeth allowed him to play much older than he was, and by the age of 38 he could comfortably pass for 55-60.

The first of his three Oscars was for his role in Come and Get It(1936), which was the first Best Supporting Oscar ever awarded. Come and Get It features an almost unrecognizably skinny Brennan as the swedish lumberjack Swan Bostrom. It's a multigenerational story co-written by Edna Ferber and Jules Furthman and directed by Howard Hawks. It starred Edward Arnold in the lead role (He's on my list for this site as well) and was the crowning achievement for Frances Farmer, playing both Arnold's great love and her own daughter in later scenes. Joel McCrea is in there too in an ingenue role. Come and Get It is as satisfying a piece of two fisted storytelling as you are likely to find, and to this day I have yet to show it to anyone without it immediately occupying a special place in their film canon.

He took on one of his few lead roles the following year in The Affairs of Cappy Ricks(1937), an enjoyable, folksy romp. He played a wealthy patriarch and sailing enthusiast so disgusted with his family's loose morals and poor judgement that he pretends to strand them, including himself, on a deserted island.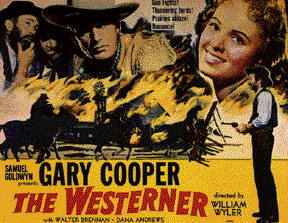 He would win the supporting actor award again in Kentucky(1938), a Romeo & Juliet variation based on the Hatfields and the McCoys. He won again for his take no prisoners portrayal of Judge Roy Bean in The Westerner (1940). He was also nominated for his performance in Sergeant York (1941).

In any given year, in addition to these well recognized roles that earned him high praise as someone who could always add something to a film, Brennan managed to appear in up to a dozen more films that today go unnoticed. He literally jumped from set to set with virtually no time to prepare for any given role, making his great performances even greater.




His career can also be viewed as a series of parts opposite the best Hollywood had to offer. He followed his Sargeant York nomination (his fourth in 5 years, and the only time he lost) with parts in two other memorable films, Meet John Doe(also 1941) and Pride of the Yankees(1942). Both films are with his Westerner lead, Gary Cooper. Brennan had already been appearing in Cooper vehicles since the silent days, and they were paired 7 times all together. Cooper could have been known as Brennan's greatest collaborator, if not for....




Humphrey Bogart, his co-star in the greatest wartime picture Hollywood made, To Have and Have Not (1944). It's a movie that has played second fiddle to Casablanca for way too long. He reunited once again with director Howard Hawks and played opposite a brand new superstar and former supporting player; Bogart. The cast also includes Bogart's new wife, Lauren Bacall. She gets the most famous line in the movie "You know how to whistle, don't you? Just put your lips together and blow." But Brennan gets my favorite line, the quintessential Brennan opine "Did you ever get bit by a dead bee?" delivered with just the right mix of humor and pure eccentricity that makes you crave the guy every time out. This would be Brennan's career highlight, if he hadn't also worked with...




Henry Fonda in John Ford's My Darling Clementine(1946), where he's especially effective as the sadistic paterfamilias of the Clanton gang. Quite surprisingly, the actor and director who collectively define the western genre never worked together again, probably due to an inability to get along away from the camera. That doesn't hinder Clementine from being a crackerjack western. Fonda is the definition of quiet cool, and the gunfight at O.K. Corral is a story told many times, this time better than any other. This would of course be the very pinnacle of Brennan's achievements, except of course for . . .




John Wayne. The duke was already an established star, and their pictures together were long overdue. They did act in films together as early as 1926 when both were bit players. They even both played character parts in a couple of early Tim McCoy oaters. But Brennan really only acts opposite Wayne in 2 films and they are both so indelibly brilliant that it seems like the two men were always together. In Red River (1948), an iconic story of a 1400 mile cattle drive, Brennan injects levity and humanity as the only man who really understands Wayne's brutal Tom Dunson. Dunson foreshadows Ethan Edwards in The Searchers (1956), and like that picture Red River is a masterpiece of character and complexity set against a simple linear story. Montgomery Clift is featured in an early role, and the subtextual nature of the relationships between all three men make Red River as rewarding to watch for the tenth time as it is the first.




Brennan took another starring role, one of his last, as the villain in The Green Promise, a rural drama that also functions as a recruitment film for 4-H. Not a major achievement, but an enjoyable film for both Brennan fans and because of an early Natalie Wood performance as his youngest daughter.




There are other choice parts here and there, including the Kirk Douglas vehicle Along the Great Divide(1951) and the James Stewart/Anthony Mann collaboration The Far Country(1954) (written by Borden Chase, author of Red River) and Bad Day at Black Rock(1955) with Spencer Tracy. Brennan also starred in three TV series, including "The Real McCoys" which ran for six seasons.




His last great acting turn came again with John Wayne, in what must be considered not just the finest western ever made but basically one of the great movies of all time, Rio Bravo(1959). Howard Hawks response to the isolation of High Noon(1952) is the mother of all siege movies, with Wayne, Brennan, Dean Martin and Ricky Nelson defending the town jail against a ruthless gang intent on freeing one of their own. Brennan's comic relief elevates every scene he's in. Rio Bravo was remade several times, twice by Hawks himself, and was also updated by John Carpenter in Assault on Precinct 13.

Brennan even had a hit record, the spoken/sung, "Old Rivers", which first charted on April 7, 1962, spent 11 weeks on the Billboard charts, and peaked at number 5. This lead to several albums of similar material and three other top 100 singles.




Walter Brennan passed away in 1974, from complications caused by emphysema. Before he went he had acted in more than 250 professional productions for both movies and tv, won 3 Oscars and established himself as the greatest character actor of the 20th century.